Artist's Statement
Glass is seductive. For me, a single, very small piece of glass can possess beauty and clarity. Just by itself it's amazing to look at and touch. And then the fun begins. Thousands of those tiny, single pieces dance around in my head; swirling, stacking, rearranging, changing and coming together from semi-controlled chaos as an idea for a new piece. I usually begin with a plan, but then I am seduced, and the design evolves as the glass begins to speak. My days are filled working and playing in my West Texas studio warehouse translating the language of the glass into tangible compositions.
I hope my glass seduces you as well.
D'Aun Weaver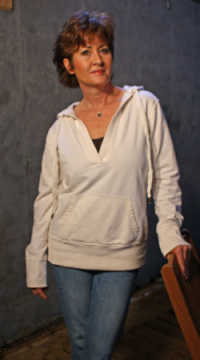 ---
What is Fused and Slumped Glass?
Glass fusing and slumping is the process of joining pieces of glass together by applying heat at varying temperatures between 1200 and 1700 degrees fahrenheit. If held long enough at these temperatures, the individual pieces of glass will soften, then become fluid and flow together. If this mass is cooled properly (annealed), then the result will be a solid (fused) piece of glass. The process I use involves creating a design and then cutting hundreds of individual pieces from large, flat sheets of glass. These tiny pieces are assembled to form the design and then placed into the kiln for the first, full fuse firing. After approximately 24 hours in the kiln, the piece is "cold worked" with large equipment that includes a tile saw, sandblaster, wet belt sander and grinder. It goes back into the kiln for another 24 hours to be "firepolished". The "slumping" process involves determining the final shape of the piece by placing it either over, or into a form, and then firing again. Each piece requires at least a week to complete and has been in the kiln for a minimum of 70 hours.